Okay, okay, okay. We know it's been a while. We were busy ya know. It takes a lot of energy to try and outbid Elon Musk on his hostile takeover of Twitter 💁‍♀️
But we're back! And this edition of The Carrier actually might be one of our feistiest ones yet. You gotta remember since we didn't publish a newsletter last month 😲😲 we have a bunch of double whammy content lined up for you this month.
⚠️ Hazard Warning: This news is so hot off the press that it may lead to severe burns, mind-numbing excitement, or other injuries if not handled with care.
Enjoy!

#FreePigeon 💸
Now that Brittany is free, we have decided to take over the cause and pivot the movement to #FreePigeon. With all due respect to the "Princess of Pop", we've made a monumental change to Pigeon that is sure to excite everyone!
So here we go! As of today and forevermore, we'll be traveling the globe releasing captive pigeons in cities all across the world! That's our new business!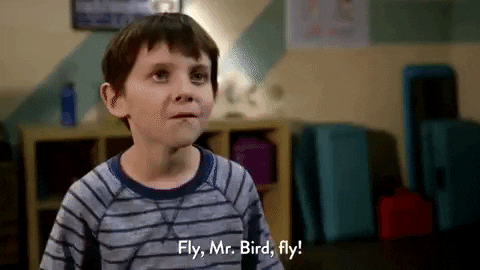 …sike. We almost had you there huh?
Actually, our news is even better than that. Pigeon is now free to use for everyone and anyone! (cue Jamaican air horn)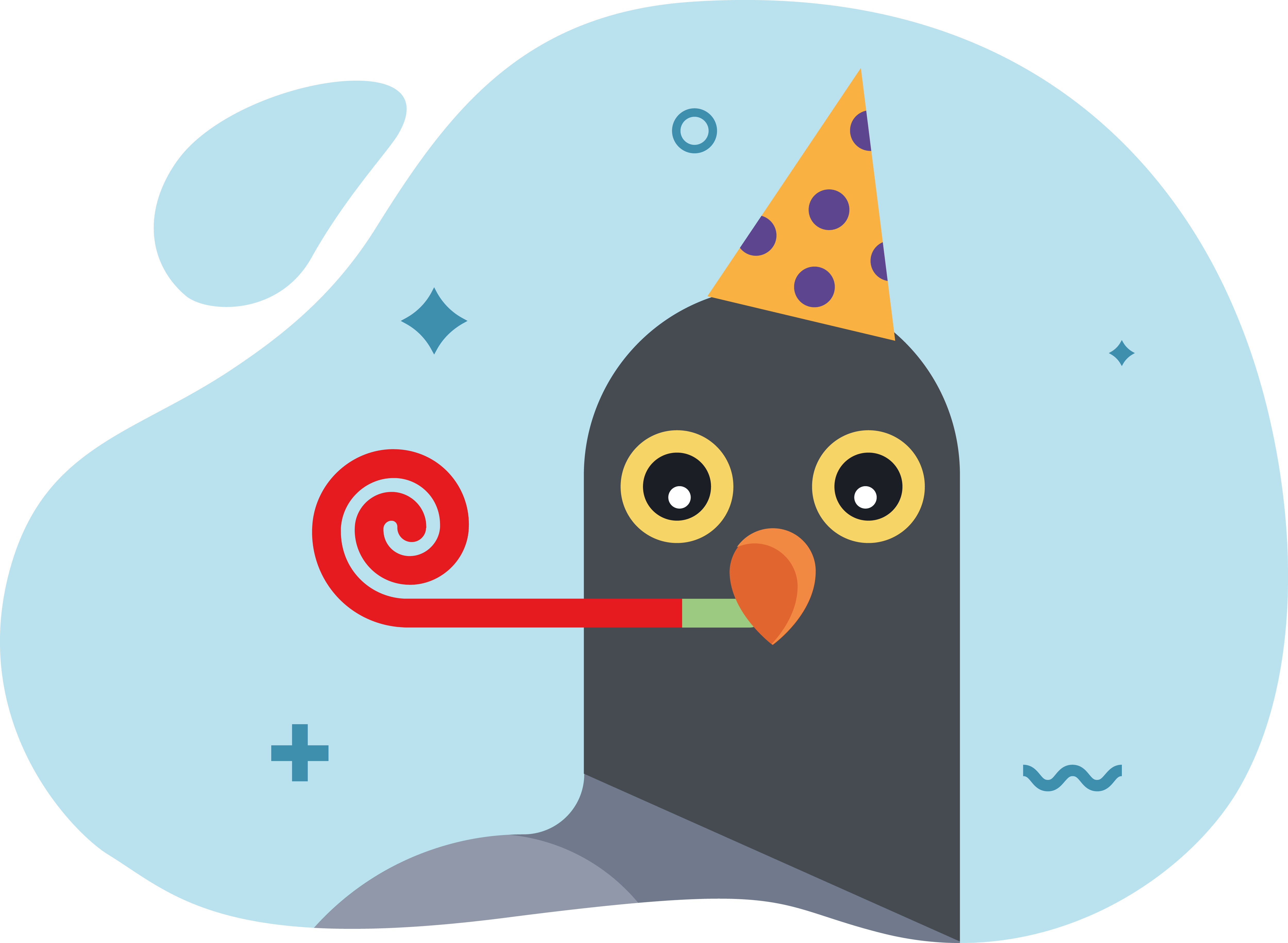 Since our inception, we've dedicated ourselves to a mission of wanting to help people, and the way we do that best is by making empowering people to make finances more accessible to one another, especially within communities, social circles, and relationships. We've already helped tens of thousands of people and have created more than $1,000,000 in loans between folks across 7 different countries. However, we believe we can do more, and have decided now is the time to put our money where our mouth is. We want to take our mission of social good to the next level.
So with that said, our product is now free to use. You can create, import, track, build and manage however way you want for as little cost as you want. We've wiped away any mandatory fees on our platform and left in its place optional costs when it comes to moving money through our application, which you're obviously never forced to do. 😉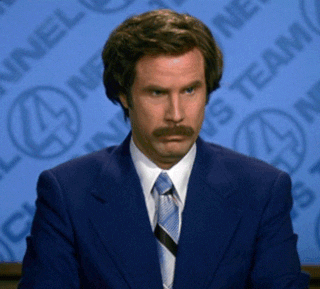 Mhmmm…Suspicious are you?
This does seem too good to be true. Well, luckily for us — you've just got trust issues because this is true. Go check out our website, and have a look around. We bet you won't be able to find a subscription fee anywhere… Go on… Give it a try 😏
We know, we know. This might take some time to process. Please take some time to look up some counseling resources near you if you feel like you need to talk to someone. But as you will see over the next year or so, we are working on launching a whole series of products & ideas that will help better facilitate relationship-based finances. So, process this news fast and strap in for a whole ride.
Web App Overhaul 👷
Some of you probably would have noticed this by now, but a couple of weeks ago we made some tweaks, improvements, and redesigns to the website. With all of these "other" changes happening with Pigeon (cough cough, did we mention we're free now all, cough cough).
Have a look at some of the changes you can find now!
A newly streamlined dashboard: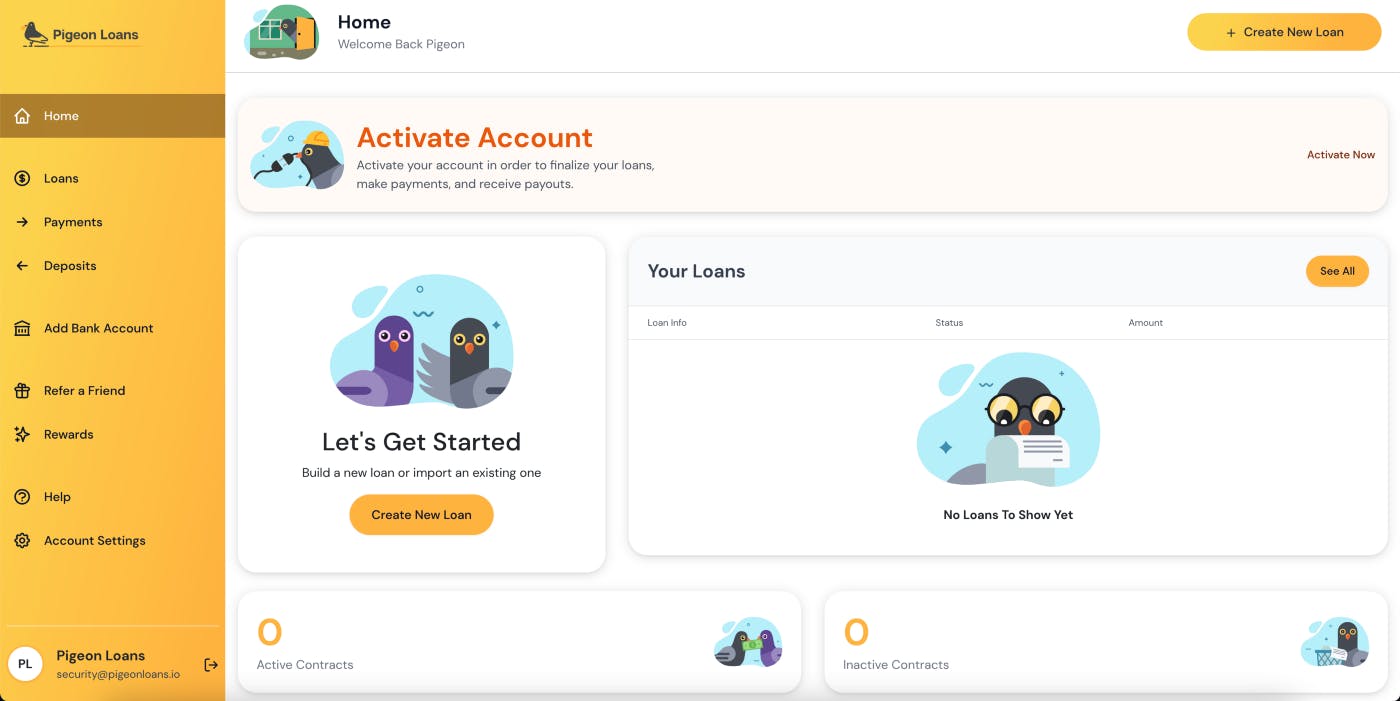 A whole new loan creation flow. Which you can also use to track existing loans that you might have started before your Pigeon journey! This is a great opportunity if you want to just document transactions with your lender or your borrower of any given loan: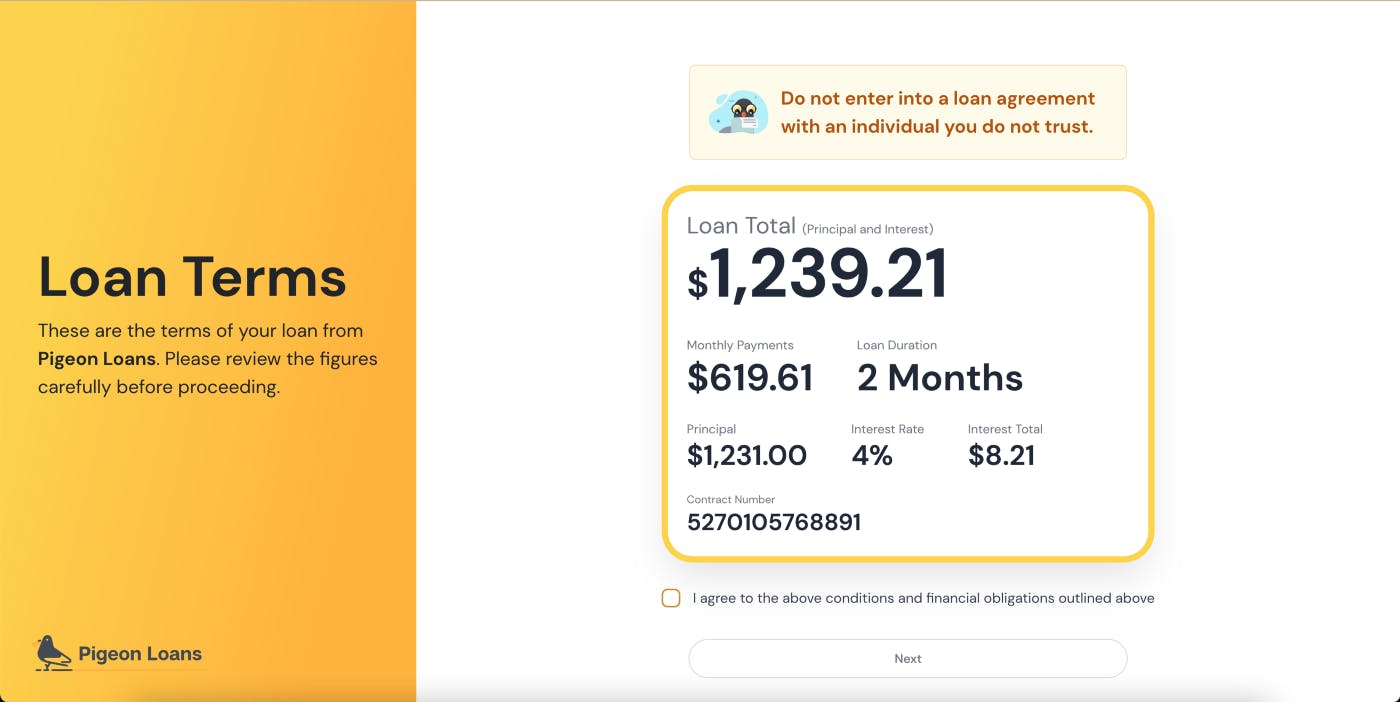 Our payment methods are here to stay as well, check them out with their new modernized look.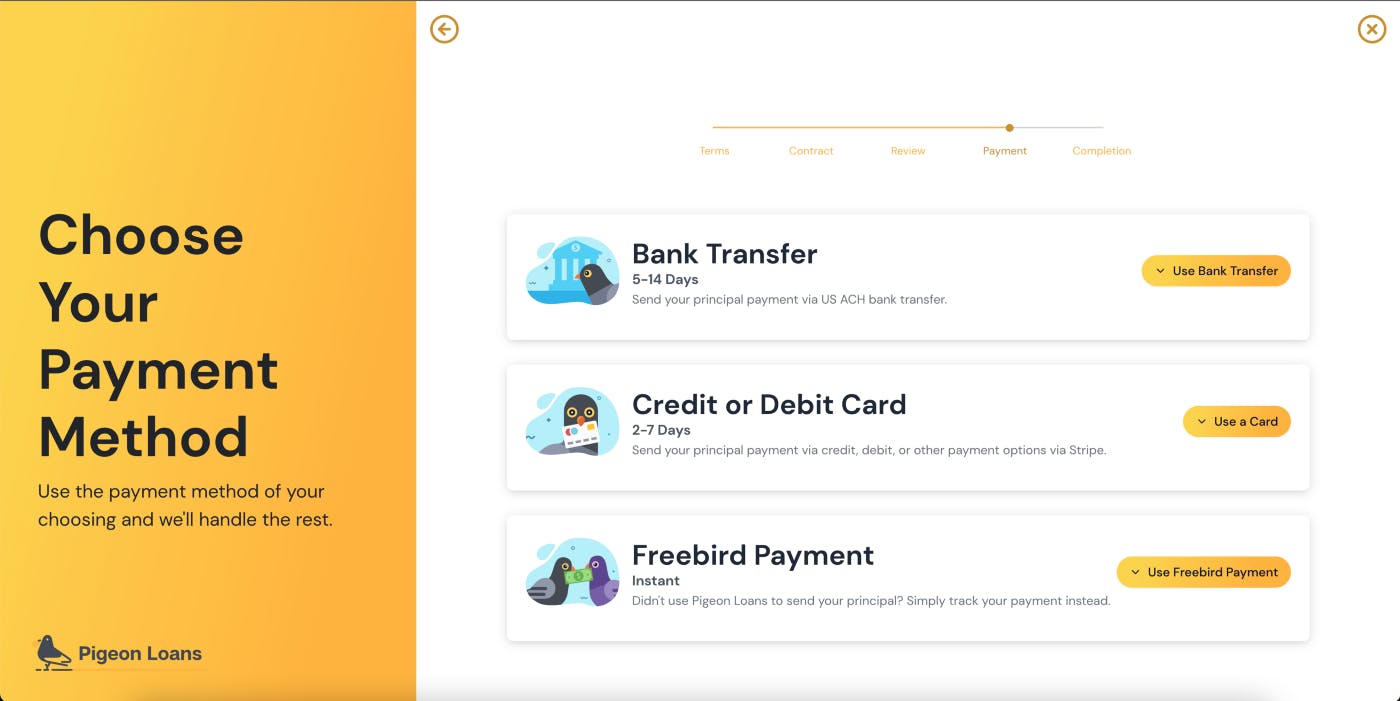 Annnnnd, of course, we created an awesome tour video of this new experience just for you. Cue the background music!
Seed Round Launched, Filled & Closed!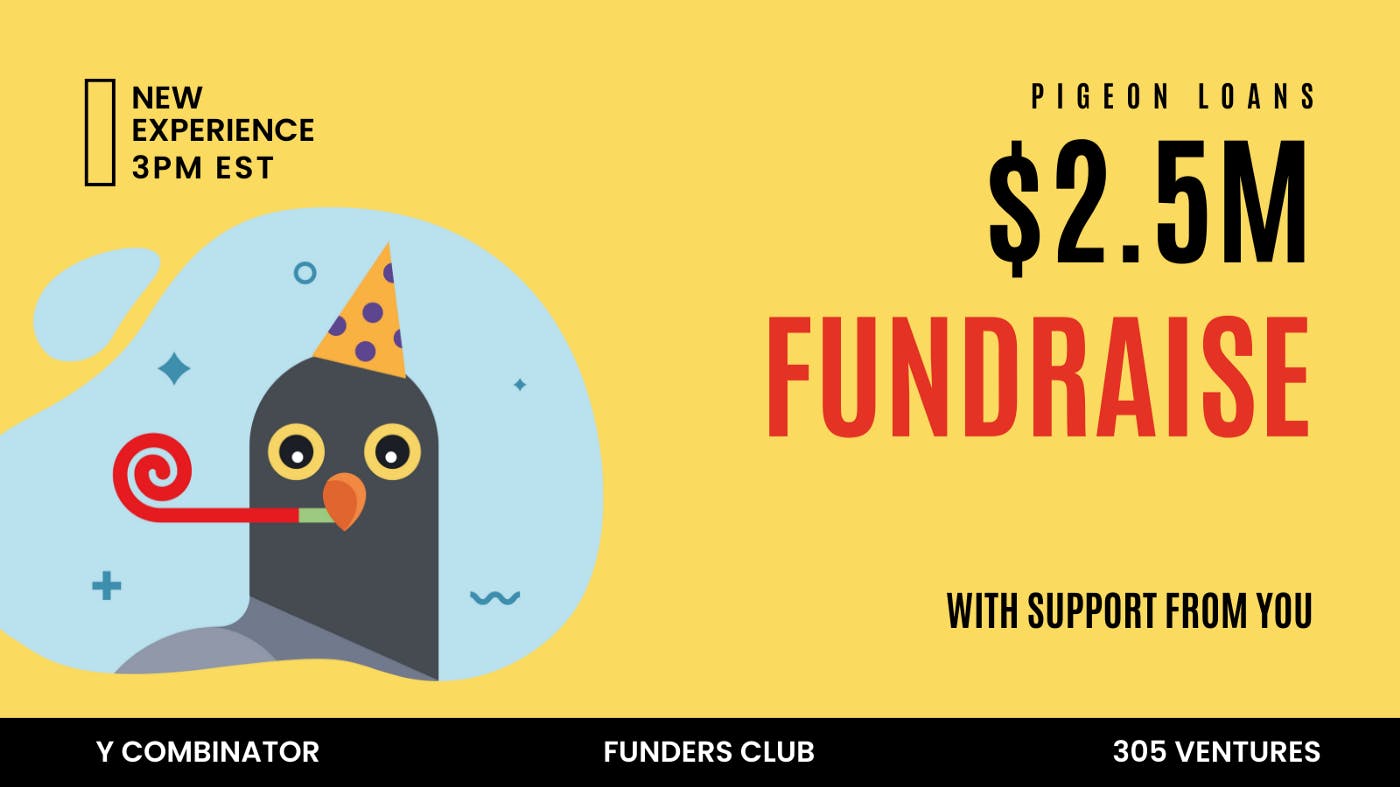 Okay now that we've covered the changes you will be seeing or interacting with in real life, it is time to draw the curtain back a little and show you the latest behind-the-scenes development at Pigeon.
For all of you wondering how well our company is doing financially (which might be all 3 of you), let's just say we're doing well, and we'll continue to do well for at least the next couple of years. We just CLOSED AN OVERSUBSCRIBED SEED ROUND. And as of early April 2022, Pigeon become one of the hottest kids on the startup block as a result of us officially raising and closing $2.5 Million Dollars 😲
May the astonishment be with you.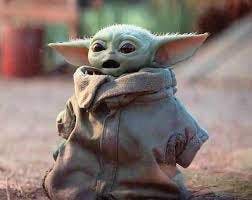 And please, don't hate on us for using Baby Yoda in this newsletter. With news this good, we had to rely on the force of the Internet OG.
Anyways, where were we? Oh yes — we raised a total of 2.5 million smacaronies in an extremely successful Seed round, and we plan to use that money to make Pigeon even better for you! We are extremely grateful for all the generosity and trust we have received from our investors, customers, and community. So, thank you!

Muahahaha, your favorite ghostwriter will be back next month for another edition of Da Carrier!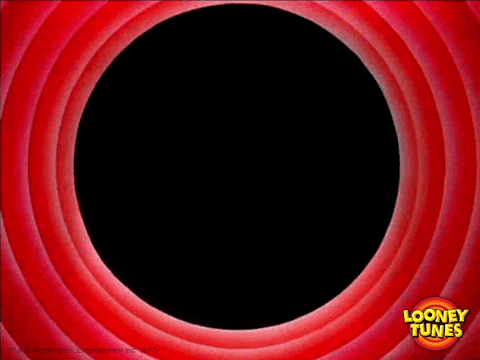 Loans With The Ones You Trust
Pigeon